Explore the 2019 RAV4: The Ultimate Adventure SUV
Last year's RAV4 met almost all of your compact SUV needs, but the new 2019 RAV4 really goes above and beyond. From the inside out, this is a model you won't want to overlook. The new RAV4 has received generous updates that have improved drivability, fuel efficiency, comfort, and appearance. And for all that, the price has barely changed. Specifically, the 2019 model has seen enhancements in Performance, Interior Design, Safety, and also comes in a hybrid version. Keep reading and prepare to be impressed by the 2019 RAV4.
Performance
Even the basics have seen updates in the new 2019 RAV4. This year's model offers two more shift speeds, boasting an impressive 8-speed automatic shift transmission. The RAV4 now also offers more horsepower than its previous edition making its drive much smoother and its acceleration much quicker. 
In addition, multi-link rear suspension means the RAV4 can grip the road and hug corners so that you have ultimate control behind the wheel which is ideal for any car that will be driven on the windy and unpredictable roads of New England.
Other notable performance feature updates include:
Toggling between Eco, Sport, and Normal Mode with more miles per gallon, and better acceleration than ever before
More ground clearance and a bigger stance for better handling on and off-road
Multi-terrain select for improved driving in mud, sand, rock, dirt, and snow--all of which you've seen before if you've ever driven in St Albans
Interior Updates
Toyota SUVs have always been family favourites due to their spacious seating and cargo hold and the 2019 RAV4 is no exception. While the cabin and cargo space has largely stayed the same, Toyota has made several other key interior upgrades including:
Bigger and better multi-information dashboard display with GPS, safety info and alerts so you spend less time configuring and more time driving
Panoramic glass roof for better passenger visibility
Enhanced infotainment system with a larger touchscreen display and Apple CarPlay capabilities
Wireless phone charging in addition to cabin USB ports
JBL speakers for a premium listening experience while you're on the road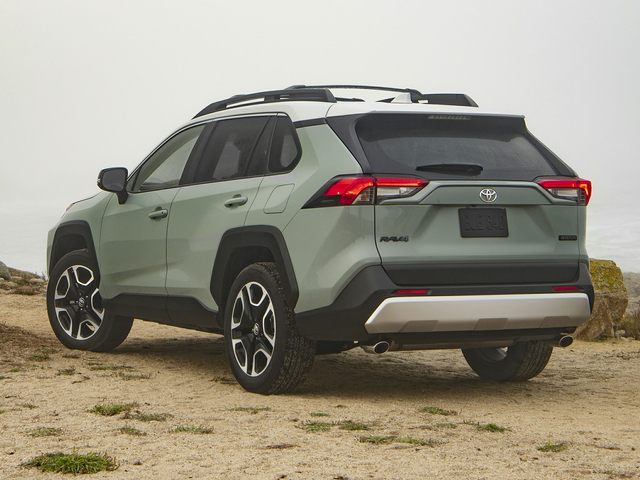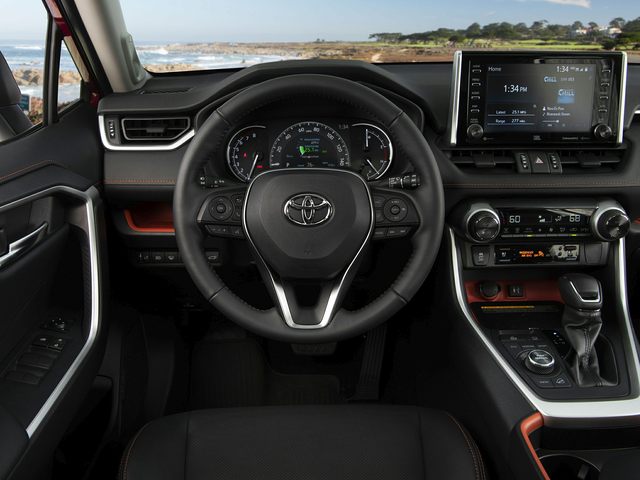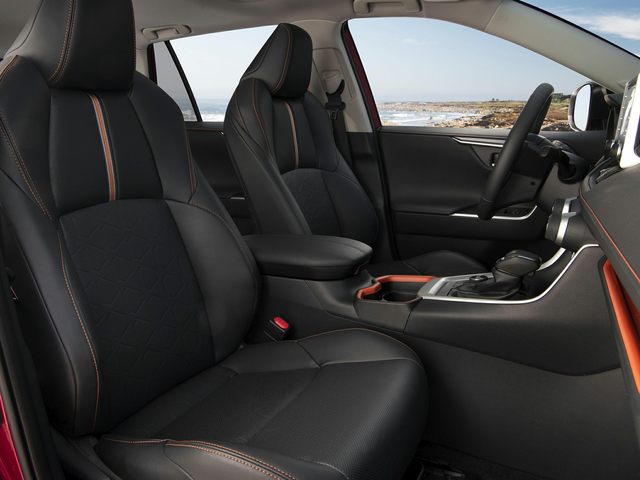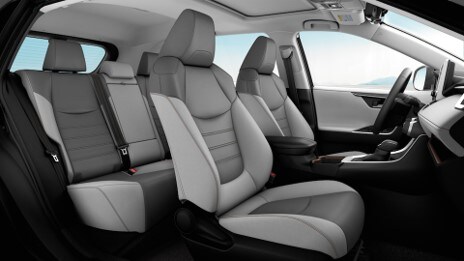 Safety Features
Nothing makes us prouder than the added safety benefits of the new RAV4. You've come to know and expect features like blind spot monitoring and our 8 cabin airbags, but we believe safety should never stop improving. The 2019 RAV4 model now also includes:
Cross traffic braking with pedestrian and other vehicle warnings
Toyota Safety Sense 2.0 with improved road sign assist, lane tracing, and automatic high beams
Our first ever camera-based digital rearview mirror which gives you a wider backwards facing view
And Now Introducing the 2019 RAV4 Hybrid Model
Toyota never stops innovating and here at Handy Toyota, we never stop updating our inventory. This year we are proud to introduce the best hybrid car in our mix: The 2019 RAV4 Hybrid. Not only does this beauty offer our best in fuel efficiency and eco design, it also is our fastest RAV4 on the market with an astounding 219 horsepower drive. But Toyota didn't stop there--the RAV4 hybrid is also one of their sleekest cars offered with a sporty interior exclusive to the model and enhanced sport driving dynamics to match.
How Does It Stack Up to the Competition?
RAV-4 vs the Honda CR-V
Both of these compact SUV's offer convenience and performance features to please, but we encourage you to take a look at the list below to see where the RAV-4 stands out as the right choice.
A well-equipped Toyota RAV-4 can tow an impressive 3,500-pounds, while the Honda CR-V can only tow 1,500-pounds.
Automatic Cruise Control is standard on the RAV-4, you have to pay extra for it on the CR-V.
Lane departure warning and lane keep assist are also standard on the RAV-4, unlike the CR-V.
Privacy glass on the rear windows is standard, not so on the Honda CR-V.
Toyota RAV-4 vs the Nissan Rogue
Another strong contender in the compact SUV class, the Nissan Rogue puts up a good fight, but still loses to the RAV-4 in a few key areas.

The RAV-4 has a hearty towing capacity of 3,500-pounds when equipped properly, while the Rogue can only tow a limiting 1,102-pounds.
The RAV-4 has a tighter turning diameter than the Rogue, making it easier to navigate on tight city streets and handle winding back roads with ease.
You have to pay extra to get the safety features like adaptive cruise control, lane keep assist, and lane departure warning that come standard on the Toyota RAV-4.
Enjoy more passenger space, thanks to more rear legroom in the RAV-4. Your passengers will be cramped and crowded in the back of the Rogue.
What's in stock at Handy Toyota?
We're fully stocking up on the new 2019 RAV4s and RAV-4 Hybrids but if you ever need more information, don't hesitate to make an inquiry online, call our main office, or stop by to see one of our experienced reps in person.
Hours
Monday

8:00am - 6:00pm

Tuesday

8:00am - 6:00pm

Wednesday

8:00am - 6:00pm

Thursday

8:00am - 6:00pm

Friday

8:00am - 6:00pm

Saturday

9:00am - 5:00pm

Sunday

Closed