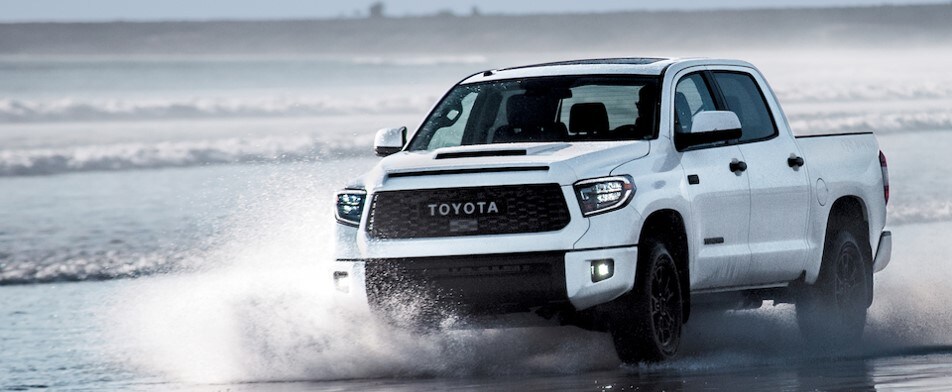 Revel in the Performance of the 2019 Toyota Tundra at Handy Toyota
If your home or work site has been missing a trunk with the right blend of performance, comforts, and safety, then the 2019 Toyota Tundra is certainly a worthy choice for your attention. Complete with a set of high-tech features, materials, and engine options, the Tundra has continued to be a successful choice from our new inventory at Handy Toyota. Whether you're looking for that perfect work or towing truck, or a more powerful off-road choice in St. Albans, our staff members are confident that the latest iteration of the Toyota Tundra is the right truck for your needs.
Changes with the 2019 Tundra
The variety of changes that come with the 2019 Toyota Tundra start with the TRD Pro. New 18-inch aluminum alloy wheels are added, as well as 2.5-inch internal-bypass FOX shocks. Drivers can also expect to find anti-fog lights, a hood air duct, a retro-inspired Toyota grille, high-performance dual-exhaust, and trim-exclusive carpet mats. There's also the new SX Appearance Package, which comes with 18-inch black alloy wheels, a black front grille, and other subtle styling changes.
Engine Performance and Towing Capacity
The Tundra comes with the choice of two different V8 engines for local drivers. The standard powertrain is a 4.6-liter V8 engine, which produces an output of 310-horsepower and 327 pound-feet for an admirable performance. Those on the hunt for a more powerful engine will prefer the 5.7-liter V8 with its 381-horsepower and 401 pound-feet of torque.
When it comes to towing ability, the base powertrain starts off with a capacity of 6,400 pounds. That can tackle transporting ATVs, dirt bikes, and trailers with ease. The stronger V8 engine tops out with a towing capacity of 10,400 pounds, which can tow boats and heavier trailers. Overall, the Tundra is a very versatile and reliable truck for all of your work needs.
Available Trim Levels and Configurations
With five different trim levels to choose from, ranging from the SR, SR5, and Limited to the Platinum and TRD Pro. Once you settle on a trim, then you can start to consider your preferred cab size and bed length. The Tundra comes with two cab size options - DoubleCab and CrewMax - as well as three bed length options - 5.5-foot, 6.5-foot, and 8.1-foot. Some cabs and bed lengths are only available with certain trim models, but the Tundra is still able to be customized to your heart's content.
After being unavailable in 2018, the TRD Pro model returns for the latest iteration of the Tundra. It is the ideal trim for those seeking the best off-road performance from their full-size truck. The standard pack comes with four-wheel drive, as well as Bilstein shock absorbers, a TRD-tuned exhaust system, as well as a front skid plate.
If you're interested in exploring the new 2019 Toyota Tacoma models that we have available, then don't hesitate to stop into our showroom at Handy Toyota. We're conveniently located at 701 Highgate Road for drivers throughout St. Albans and beyond to stop in and take a closer look with ease. We look forward to guiding you through our new inventory today!
Compare the Toyota Tundra to the Competition
You're on the search for a full-size truck with full-size capabilities for the demands of your daily life. That's why you shouldn't compromise when it comes to power, performance, and versatility. Many pickup drivers have realized this when they come to Handy Toyota and explore the Toyota Tundra. Equipped with the standard equipment you need to handle the toughest jobs the Tundra stacks up nicely against the competition. See the following comparisons between the Toyota Tundra, Ford F-150, and GMC Sierra to learn why our customers choose the Toyota Tundra as their workhorse.
Toyota Tundra vs. GMC Sierra 1500
Power
The Toyota Tundra does everything but compromise when it comes to power. Equipped with a standard eight-cylinder engine. This pickup produces 381 horsepower and 401 pound-feet of torque that you can only find in a higher trim GMC Sierra 1500.
Capability
Thanks to the power of the V8 engine in the Toyota Tundra it can out-tow the Sierra 1500. In-fact the Tundra out-tows the Sierra by over 1,500 pounds in standard towing capacity.
Job Versatility
We all know that full-size pickups aren't necessarily fuel-efficient, that's why having enough fuel space is important. The Tundra gives you a whopping 38-gallon tank for versatility in driving over long distances and between job sites.
Toyota Tundra vs. Ford F-150
Power
Arguably the most important feature of a pickup is its engine. The Toyota Tundra comes equipped with a standard eight-cylinders that produce 381 horsepower and 401 pound-feet of torque. Giving you more ability to tow and haul than the Ford F-150.
Towing Capacity
If you spend a lot of time trailering heavy equipment you can't skimp on performance. The Toyota Tundra gives you an 8,900-pound towing capacity standard, nearly 4,000 pounds more than the standard Ford F-150's.
Standard Equipment
At equitable trim levels the Toyota Tundra delivers more for less. The Tundra gives you a standard tow package, trailer hitch, cabin air vent, power vertical sliding rear window, and skid plate all for less than an equally equipped Ford F-150.