Welcome to the Handy Toyota Dealership Awards List
At Handy Toyota of St. Albans, Vermont we are not only about selling new and used Toyota vehicles, genuine Toyota parts, or Toyota service and car repairs, we are also dedicated to customer service. And our track record proves it. Below are a selection of accomplishments our St. Albans Toyota dealership and its staff have earned. Also, we would like to thank all our customers for helping us to achieve these feats; without your patronage and feedback, the following awards would not have been garnered!
---
DealerRater Customer Satisfaction Award Recipient From 2015-2022




 


    
The Consumer Satisfaction Awards represent an expansion of our annual recognition program for top car dealerships in the U.S. and Canada. The program is intended to compliment our annual Dealer of the Year Award.Consumer Satisfaction Award recipients must meet the same requirements as the Dealer of the Year program as described above. The Consumer Satisfaction Awards are given to the following:
Top 10% U.S. franchise dealers based on their PowerScore
All U.S. used car dealerships that meet the Dealer of the Year criteria
All Canadian car dealerships (both franchise and used car) that meet the Dealer of the Year criteria
---
Edmunds.com 2015 and 2016 Five Star Dealer Award




The Edmunds.com has named over 800 car dealerships as the winners of the company's fourth annual Five Star Dealer Awards. The awards recognize select car dealers who earned the highest overall rating for customer satisfaction in Edmunds.com's dealer "Sales Ratings." 

"Providing excellent customer satisfaction has never been more important than it is in today's highly connected world," said Edmunds.com CEO Avi Steinlauf. "Congratulations to all of the winners of the Edmunds Five Star Dealer Awards for recognizing that putting the customer first is the very best way to be successful."To be eligible for the Five Star Dealer Award, the dealer partner must have earned an overall sales rating of five stars generated by car shoppers on Edmunds.com - with a minimum of 20 reviews during the previous two years - as of December 31, 2015.

---
DealerRater 2014 and 2015 Dealer of the Year Award






The Dealer of the Year Awards will be given to car dealership that have the highest PowerScore™ in their brand category, both at national and state/provincial levels. Each dealership's PowerScore will be calculated using a Bayesian algorithm that considers the dealership's average DealerRater star rating as well as the total number of reviews written about the dealership during that calendar year.To be considered for the Dealer of the Year Awards a dealership must have:
Minimum of 25 reviews on DealerRater for the 2015 calendar year
Average minimum star rating of 4.0 on DealerRater (calculated quarterly), with 5.0 as the highest possible rating
At least one review on DealerRater per quarter during the 2015 calendar year
Must not have been blacklisted within the 2015 calendar year
---
Handy Toyota's Parts and Service Management Excellence Award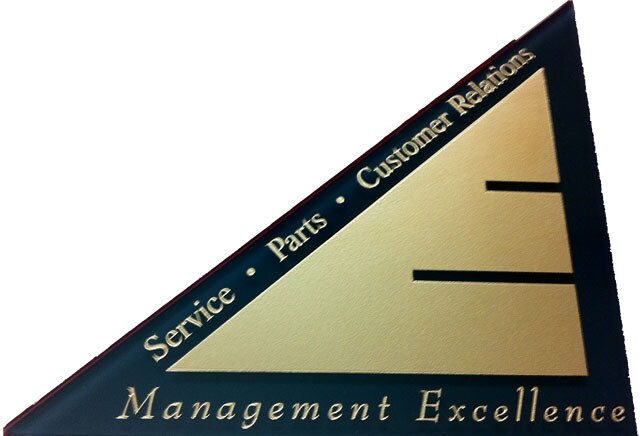 The Toyota-trained and certified car repair, service, and parts department at Handy Toyota of St. Albans, Vermont has accumulated many awards, both personal and conglomerate. However, the one we are most proud of is fixed operations director Joe Luneau and et al's Toyota
Management Excellence
 award, an award is designated to Toyota dealerships of the highest caliber in regards to customer relations in service and parts.
By always putting the customer's needs first with simple, time-tested rules such as never allowing the customer to leave unhappy, constant updates on the status of a customer's Toyota repairs, and customer-oriented things of this nature, Handy Toyota's parts and service center has consistently ranked in the highest echelon of Toyota customer satisfaction, the foundation to the Toyota Pyramid of Business Philosophies.
---
The 2015 Toyota President's Award
Just like our stellar Toyota service and car parts team, our Toyota sales staff has garnered an excellent reputation as a leader in Toyota dealers in Vermont and customer satisfaction. Our policy is to stick with the customer before, during, and after the sale - not just until the sale is complete as some dealerships around the country employ as a tactic.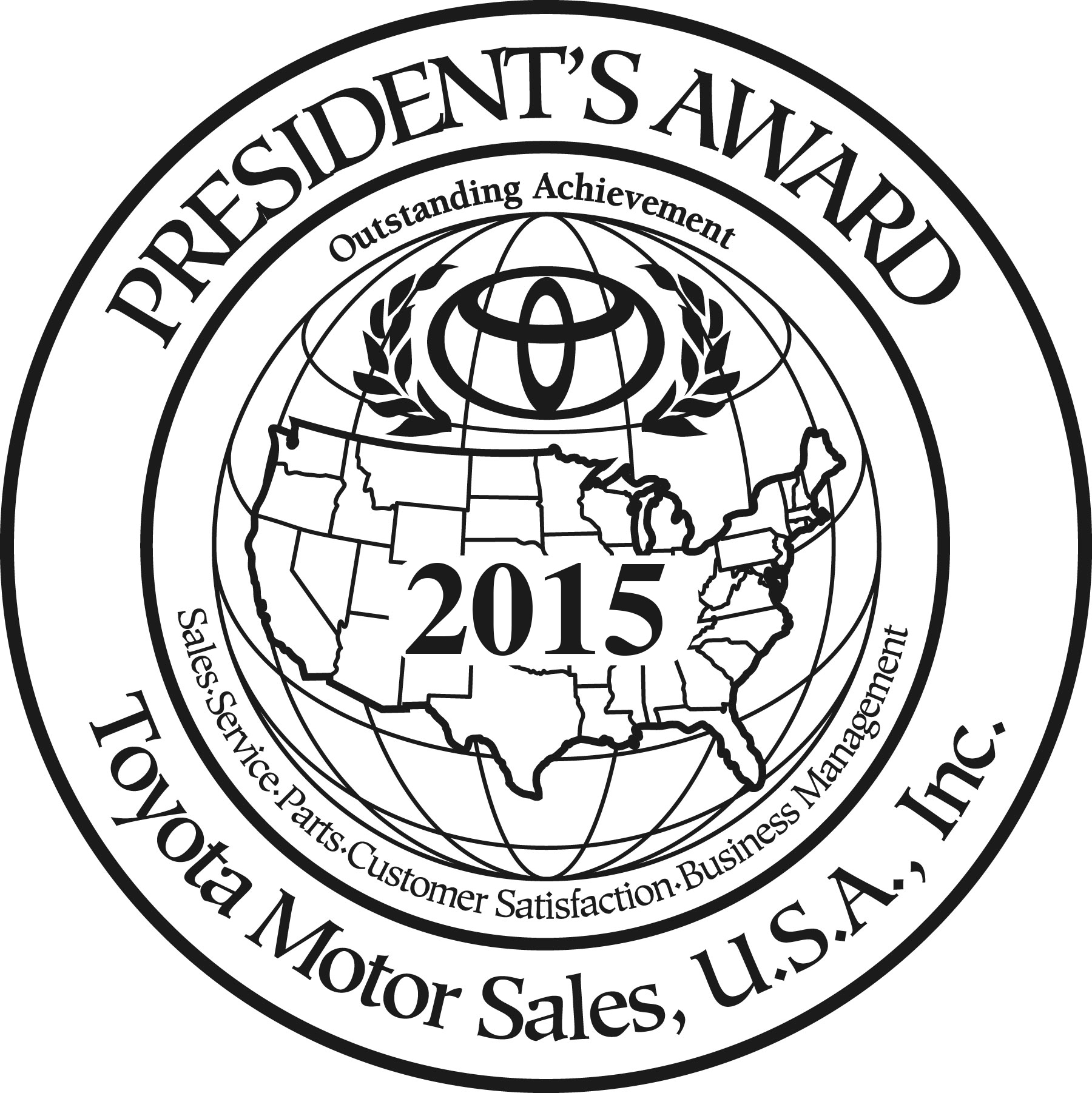 We believe in one straightforward thing: happy customers are repeat customers. Our St. Albans, VT Toyota dealership doesn't want to sell you one Toyota, we want to sell you Toyota vehicles for as long as you need a vehicle period.  Furthermore, we want your friends and family to know that we go above and beyond to see that you drive off our 701 Highgate Road, St. Albans, VT lot in the new Toyota vehicle or used car of your dreams, one that fits your specific situation perfectly and within your particular budget.
The coveted Toyota Presidents Award is only given to stellar dealerships as chosen by Toyota Motor Sales and stands as perhaps the top honor in the Toyota vehicle sales industry. This yearly award is given to Toyota dealers who not only adhere to the strict standards of Toyota's customer satisfaction expectations, but instead goes to dealers who go above and beyond that benchmark. Handy Toyota, in 2010 and many years before it, have been graced with this glorious honor. As many of you know, Handy Toyota and in fact Toyota's goal is to emphasize the entire ownership process of one's Toyota vehicle. If you aren't satisfied when you call or email us, enter our dealership, leave with a new vehicle or without, and any other possibility in between, we want to know about it.  In fact, these exact reasons are why Toyota Motor Sales has a customer satisfaction survey and why Handy Toyota has become a certified dealer in the DealerRater program, an in-house method by which to give folks a place for anonymous and unbiased reviews of our sales floor and the consultants therein, the Toyota service department and Toyota parts department and it's technicians.
---
Toyota Financial Services Ambassador Award

Even our financing and car loan department has earned some fairly distinctive honors, such as the Ambassador Award as given by Toyota Financial Services. Lead by manager Sam Farrar, the finance and car loan department at Handy Toyota of St. Albans, VT has long been known for getting customers from Vermont in the Toyota car, truck, minivan, or SUV of their dreams, a vehicle that best fits the specific client's needs, and the finance rate, car loan, or Toyota lease that best fits their budget.
The Toyota Financial Services Ambassador Award is issued to Toyota dealerships who have gone above and beyond to finance Toyota vehicles for customers of all walks of life.  If you're in need of a new Toyota or want to lease a new Toyota, come speak with Sam; chances are, he'll figure something out for you.
---
Handy Toyota's Toyota Signature Statement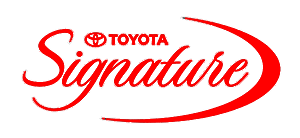 The Toyota Signature award/promise is a supplement of sorts to that which we've been discussing all along: customer care; customer satisfaction; getting a person in the new Toyota vehicle of their dreams; financing new Toyota's for anyone we possibly can; customer happiness before, during, and, and after the sale and forever; and keeping customers for life. These are the promises made by the Toyota Signature award - or certification if you will - and it's something we at Handy Toyota of St. Albans, VT take very seriously. The Toyota Signature vision statement is as follows:
Toyota Signature is an initiative for dealers to increase customer loyalty and sales by focusing efforts on the effectiveness of dealership operations in order to provide customers with a positive dealership experience.
All of these principles that make up not only who Toyota is as a company but also makes up the business ethics behind Handy Toyota is what keeps us certified as a Toyota Signaturenew and used Toyota vehicle dealership year after year.
But more than customer satisfaction alone, Handy Toyota is dedicated to the Toyota Signature staple of bettering ourselves. Whether it's using 100% renewable energy in the form of Cow Power from Green Mountain Power, listening to customers on how we can improve our methods or timeliness, or anything else: we always welcome your criticism, whether it's constructive or otherwise - that's the only way we grow, learn, and perform better for you.
Whether you come into our 701 Highgate Rd., St. Albans, VT 05478 dealership to buy or lease, get your entire Toyota serviced or repaired, or if you're just buying a 25 cent bolt for a specific car part replacement on your Toyota, you can guarantee that you will be treated just as well as the customer before you was and just as pleasantly as the next. That is the Toyota method, the Handy Toyota ideology, and that's what keeps us qualified to hold the Toyota Signature mark of approval.
---
Handy Toyota and Complete Business Awards
2009 Outstanding Business of the Year Award
Although all of these previous components of the Handy Toyota business philosophy are equally important, this one was special.  It's not because it was an accomplishment or made us feel good about ourselves or anything of that nature, but this award was given to us by our community - something we stand for and take great pride in.
But all companies think they are active community members, don't they?  Well our commitment to improving the greater St. Albans, VT area was affirmed in early 2010 as Handy Toyota was awarded by the Franklin County community on a whole with the Franklin County Chamber of Commerce's 2009 Outstanding Business of the Year Award at the Franklin County Annual Dinner and Silent Auction, one of the grandest honors in our small community.  We were nominated due to our involvement with the Green Mountain Power's Cow Power renewable energy program which not only involves using said power source but the donation of $60 for every Prius we sold in the 2008 calendar year.  We were also given thanks for our general involvement with the community and our tendency to put said the group efforts of our neighborhood before corporate interests.  Needless to say, we were all extremely touched at having received this award, and really cannot thank the Chamber of Commerce, the town of St. Albans, Vermont, Franklin County, Vermont, and though this award came years ago the entire Handy Toyota staff cannot thank our friends and neighbors nearly enough.
For a full list of the award recipients at the 2009 Franklin County Regional Chamber of Commerce Dinner and Silent Auction, check out our community events page, complete with photos, video, and more.
---
Green Dealership Awards
2009 Cow Power Award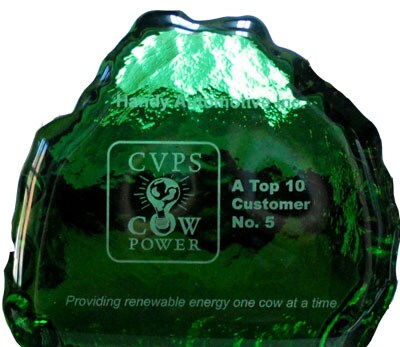 As mentioned above for the
2009 Outstanding Business of the Year 
award segment, our dealership is a green dealership, and Handy Toyota was awarded the number five spot during the 2010 Cow Power Award ceremony for just that reason.  Taking place at the Farmer's Insurance Cooperative building in Middlebury, Vermont, the Central Vermont Public Services (Green Mountain Power) gave us this dubious honor due to our involvement in the Cow Power program as well as our commitment to promoting the renewable energy source in our own advertisements.  Further, when Handy Toyota signed up for Cow Power in 2008, we pledged to donate $60 from every hybrid vehicle sold to the Cow Power program.
Though we are ecstatic to gain recognition, this isn't why we take part in the Cow Power program at all.  Handy Toyota is the nation's first automotive dealership to get 100% of our power from Cow Power, electricity that is both derived from cow manure and completely renewable, and the point is renewable energy, something that goes hand in hand with Toyota's long-standing commitment to the environment.  For almost a decade and a half Toyota Motors has been a trendsetter with hybrid vehicles like the Toyota Prius, the Camry Hybrid, the Highlander Hybrid, and even the all-new Prius family (the Prius v, Prius c, and the Prius Plug-in) - so as a Vermont's first Toyota dealership we can happily jump on that wagon.
Learn more about the Cow Power program by going to our green dealership info page or by going to the Green Mountain Power's Cow Power website today.